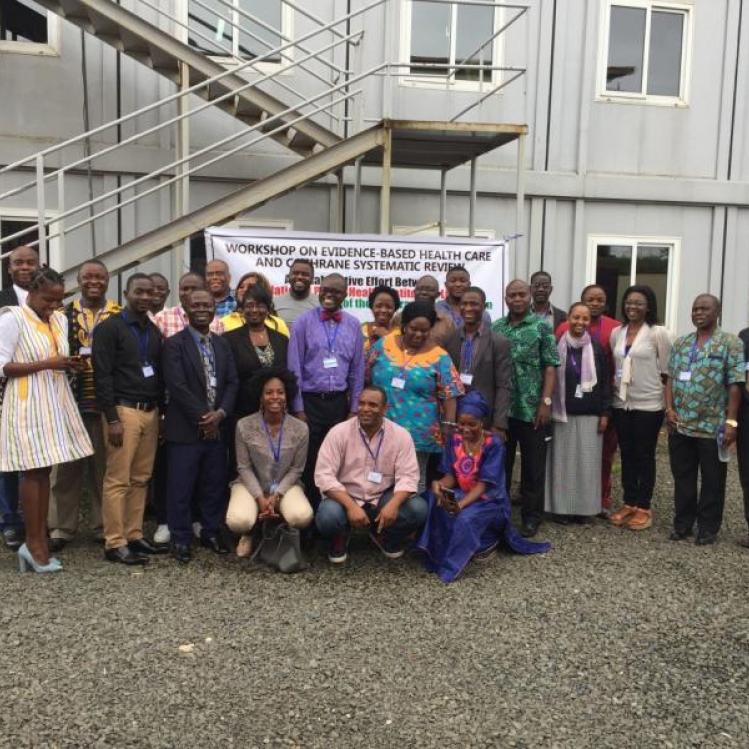 On 3-4 August 2017, the West Africa hub, led by researchers from Cochrane Nigeria, conducted a two-day awareness raising workshop in Congo Town, Liberia. The workshop focused on evidence-based healthcare, the Cochrane Library, the structure of Cochrane reviews and how to interpret forest plots. Participants were also introduced to the Cochrane Africa Network. Participants at the workshop hosted by the National Public Health Institute of Liberia included academia from medical schools, researchers, policy makers and programme managers from the World Health Organization (WHO) and the Global Fund to Fights AIDS, Tuberculosis and Malaria.  Thirty-seven persons participated in the workshop.
The Deputy Minister of Health, Dr Kateh officially opened the workshop.  He acknowledged that this was the first ever event bringing together stakeholders such as policy makers, researchers and academia under one roof. Dr Kateh appealed that the collaborative initiative should be sustained and indicated that he hoped that there would be more extensive training opportunities on review production and how to promote uptake of evidence-based practice in Liberia.
The workshop was generally well received. Enthusiasm was high and both participants and key stakeholders agreed on the need to take this forward. The National Public Health Institute of Liberia will act as the coordinating hub for all stakeholders. Cochrane Nigeria will be informed of a focal group as soon as this has been set up.